Employment Exchanges Mission Mode Project;
1.         The Employment Exchange Mission Mode project is one of the 31 Mission Mode Projects under National e-Governance Plan (Ne-GP). Budget of INR 148.70 crore has been approved for 12th Five Year Plan for this project in December, 2013. The aim of EE-MMP is to provide career options and facilitate informed choice to the job seekers by providing a national platform for interface between stakeholders for responsive, transparent and efficient career services in order to meet the skill needs of a dynamic economy. The objective of EE-MMP is to take up process re-engineering and convert NES into NCS (National Career Service).
National Career Service - India
2.         NCS is proposed to have variety of services like information about skill development courses, apprenticeship, internship, career counselling, etc. along with all employment related services.  It is expected that the NCS would be accessible to all stakeholders, based on partnerships and would provide larger number of services supported by call centres/helpdesk and through network of new nodes like CSC(common service centres), etc.
The main stakeholders for the NCS would include:
Unemployed candidates seeking jobs
Students seeking career counselling
Candidates seeking vocational / occupational guidance
Illiterate, under-privileged sections of society, blue-collar workers seeking placements and guidance
Person with different abilities (PWDs), ex-servicemen, veterans / senior citizens, etc.
Employers seeking suitable candidates
Governing Structures
3.         The following committees will steer the implementation of the NCS project:
3.1          Empowered Committee chaired by Secretary to approve project proposals received from the State governments for funding and re-allocation of funds between various budget heads.
3.2          Project Steering Committee chaired by DGET for taking Administrative and Technical decisions associated with the project.
3.3          Working Group on NCS comprising officials from State governments to recommend technical inputs and functionalities to be incorporated in the NCS project.
3.4          A Project Management Consulting Agency is being engaged for providing the design architecture for the NCS project and in providing technical support to the Project Steering Committee.
National Career Service (NCS) Architecture
4.         The range of activities proposed to be provided through the Single Window NCS architecture is depicted below: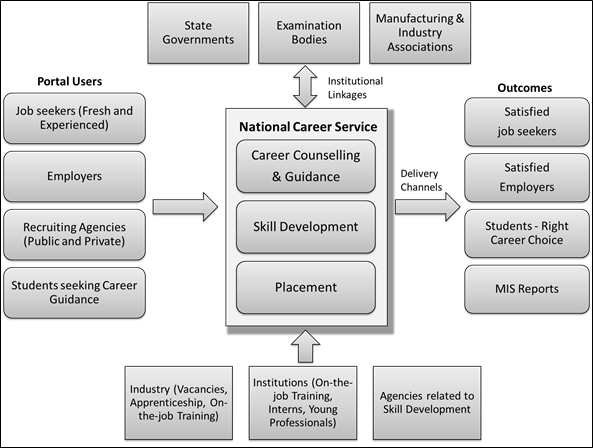 Action Plan
5.         The Key Activities involved with the Roll-out of the National Career Service initiative are:
5.1       Interaction with Stakeholders to take inputs for portal design
Central Ministries and State Governments – for revision of forms & processes including NCO
Educational Institutions – for providing candidate database
Training Providers – for consolidating training calendars & database of skilled workforce
Industries and Employers – for vacancy notification
5.2       Inter linking of State systems with National portal
5.3       Advocacy and Awareness campaigns
5.4       Capacity Building for NCS
Training programs – at National & Regional level for training of GoI, State personnel
Developing resources for Career Guidance and Counselling – training of trainers
5.5       Value Added Services (SMS s, email s, mobile apps etc.)
5.6       Monitoring and Evaluation